Saraswathi sabatham is not only devotional film
Saraswathi sabatham is classic Tamil movie released in 1966. It was written and directed by A.P. Nagarajan. This film is not only devotional film; it is a philosophical and social film.
Story line:  Which is best in the world? Knowledge, wealth, strength
This three things are taken by director as three goddesses. Knowledge is related to saraswathi. Wealth is related to Lakshmi. Strength is related to Paarvathi.
The main question raised by Naratha who is sage. Three goddesses quarrel between them and try to prove their power. They took three persons in earth. That three persons are vidyapati(mute person), selvambigai(beggar girl), Maalya(coward).
Now we analyse this main seven characters. The whole story belongs to these seven characters.
  1. Saraswathi:
The first challenge raised by Devi Saraswathi. At the moment the story starts.  She desired to prove knowledge is best in the universe. So she took the mute person vidyapati and gives him to power of speech, literary and mathematic knowledge. She ordered him to prove the power of knowledge.
Actress Savithri play this title role very grace fully. Till now, she is role model for many actresses.
  2. Lakshmi:
Devi Lakshmi desired to prove wealth is the supreme power in this world. So she took one beggar girl and changes her as a queen.
Actress Devika play this role. She is very calm and beautiful actress. She had done this work very nice.
  3. Paarvathi:
Devi Paarvathi desired to prove strength (of brave) is the ultimate among all things. So she changes one coward person's character as a brave person.
Actress Padmini play this role. She is not only a good actress, great classical dancer too. She has the title "Nattiya peroli". It means light of dance.  One special scene proved her dance talent. That scene is paarvathi dance front of her children (vinayagar and murugan).
  4. Vidyapathi:
He was a mute person and innocent. After getting power from goddess saraswathi, he became a great poet. According to some situation he became enemy to queen and head of the army. The basic problem is he refuses to sing about queen.
Actor Sivaji Ganeshan play this role very clever. This role has two dimensions. One is innocent. Another one is knowledgeable person. These two variations easily handled by this great actor. Till now, he is praised as head of all actors ("Nadigar Thilagam").
  5. Selvambigai:
This role also has two dimensions. These are poverty and rich. By the power of Devi Lakshmi, this beggar girl became the queen of one country. After getting the power, she became arrogant person and tries to control the two persons, vidyapathi and Maalya.
Actress K.R. Vijaya plays this role. It is mind-blowing performance. As a beggar girl, she gets sympathy from all. Then she became queen, she gives shock to all.
  6. Maalya:
This also the two dimension role. These are coward and brave. He got brave and strength from goddess Paarvathi. Then he became the head of army to one country which ruled by queen selvambigai. According to some situation, he fights with queen and also treated vidyapathi as enemy.
Actor Gemini Ganeshan play this role. He was a chocolate hero in his times. He has the tile "Kaadal mannan(king of romance). But in this film no place to romance. He proves him as a versatile actor.
  7. Naaratha:
He is the famous sage in puranas( old devotional tales and stories). He is the main reason for this triangle fight. But his aim is wise.
 Once again, Mr. Sivaji Ganeshan plays this role also. No words to say his talent. This role is full of humor and clever.
 Yes! It is true. We can't confuse with naratha role with vidyapathi role. That is the talent of sivaji.
Like the seven characters, seven songs too enriched this film. K.V. Mahadevan gave good devotional, pathos and comic music to this film.
These are
1. Agaramuthala:
 Singer T.M. Sounderarajan gave his golden voice to this song. Lyricist Kannadasan play with Tamil vowels in this song. This song's situation is vidayapathi getting voice and knowledge from goddess saraswathi.
2. Deivam Iruppathu Engey:
 Determination voice of T.M. Sounderrajan to actor Sivaji Ganeshan is super. Kannadasan's meaningful lyrics touch heart. This song creates fight between queen selvambigai and vidyapathi.
3. Kalviya Selvama Veerama:
 T.M. Sonderarajan to Sivaji Ganeshan in another character, that is Naratha. Kannadasan's this song is the core meaning of this film. What is the best in this world? Knowledge, wealth, strength. That is the concept of this song.
 4. Thai Thantha:
 This is pathos song written by Lyricist A. Maruthakasi. It sung by melody queen P. Susheela. The situation is beggar girl(selvambigai's first life) singing with pathos mood.
 5. Uruvathaikattidum Kanaadi:
 This is song of good mood written by A. Maruthakasi and sung by Susheela. The situation is beggar girl became queen and she sung with enthusiasm and joy.
 6.Komatha Engal Kulamatha:
 This song is written by kannadasan and sung by P. Susheela. Goddess Saraswathi doing pooja to cow. This is the situation of this song. In our culture, Cow is important animal in our life. It is one of the pillars for agriculture. So, Event though god and goddesses, they also worship cow. This is good imagination.
7. Ranimaharani:
This song is sung by T.M. Sounderarajan to Sivaji Ganeshan. It is comic song. It is written by kannadasan. It gives some story details too.
Comedy track:
 Mr. Nagesh and Mrs. Manorama did their comedy role very well. They are first film coupen on those days.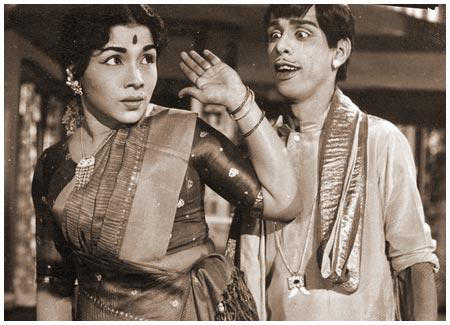 They are escorts of queen Selvambigai. Manorama's dialogue delivery is very interesting one.
 This film distributed by sri vijayalakshmi pictures. This film dubbed in Hindi also.
Conclusion:
Finally three goddesses and their three special devotees realize their mistakes and agree the three powers are equal. May be man or country knowledge, wealth, strength all are essential to good life. This is the justice of this film.
 Remembering and watching this good film giving good felling at this festival season.
---
Like it on Facebook, Tweet it or share this article on other bookmarking websites.